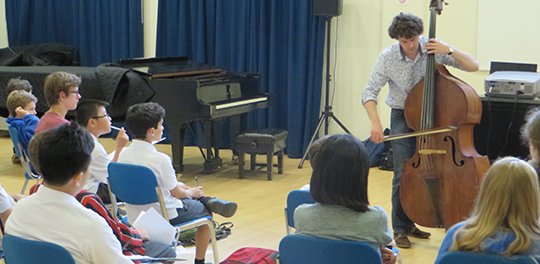 To ensure school children have access to live musical performances our undergraduate students are offering free visits to local state schools to showcase their instrument or ensemble.
How does it work?
The Outreach Coordinator at the Faculty of Music can put you in contact with students at the University of Cambridge who would be happy to visit your school and showcase their instrument(s).
Most visits will typically be for an assembly or collection of classes and might include a performance of some short pieces, information about the instrument/ensemble and the opportunity for your students to ask questions. The exact content of a visit can be discussed between your school and the performer, depending on what you would find useful and what our performers feel happy delivering, but all performers will offer their services for FREE!
Booking a performer
If you would like to book a performer to come to your school, please email outreach@mus.cam.ac.uk in the first instance, and we'll be able to put you in touch with a student who might be able to perform for you. Please let us know if you'd like a particular instrument or style of music, and the date and time you'd want a visit to take place. Please note we can only offer visits during University term times (excluding May and June).