We are delighted to announce that MPhil Composition student Apostolis Koutsogiannis has won an open competition to write a new Ballet for the Greek National Opera.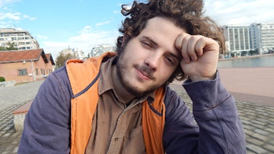 Having studied composition with Giorgos Kyriakakis at the University of Macedonia Apostolis received the A.G Leventis Foundation Scholarship and is currently studying composition (MPhil) with Richard Causton at the Faculty of Music
In addition to the Greek National Opera project, Apostolis has received commissions from institutions such as Thessaloniki Concert Hall, Athens Concert Hall, University of Macedonia, Girls' Choir of St Catharine College/ Cambridge, Conservatorium van Amsterdam, Gaudeamus Academy, Municipality of Heraklion/Crete. His music has been performed, among others, by ensembles such as the Atlas Ensemble, Athens String Quartet, Ligeti Quartet, Sokratis Sinopoulos Quartet, Orchestra of the University of Macedonia, Cretan Youth Orchestra.
Apostolis has also written music for three films and recorded for ECM records with Sokratis Sinopoulos Quartet. His music was included in the double CD for the 20 years of the Department of Music Science and Art of the University of Macedonia.