On the morning of Thursday 9 November, a small group of students and fellows gathered in Newnham College's Old Labs in anticipation of the arrival of conductor Marin Alsop – a household name, perhaps best known in England for conducting the Last Night of the Proms in 2013 and 2015 – who was at the college to accept an Honorary Fellowship. She entered without any fuss, and modestly received the effusive welcome of College Director of Music Delphine Mordey, who gave a taste of Marin's impressive list of achievements, describing her as 'one of the few classical musicians for whom the label superstar is no exaggeration'.
Then the questions kicked off with a common query – how does Marin go about preparing a new piece to conduct? Marin said that she often finds newly composed pieces easier to approach, as without a long performing history, she is free to make her own decisions. When conducting well-known works, however, she feels obliged to make full use of the available recordings, which can be very time consuming and can ultimately lead to greater confusion.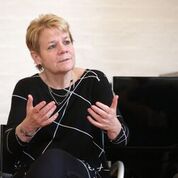 With several aspiring conductors in the room, there were a few questions surrounding the process of becoming a conductor. Marin suggested finding a niche as you're getting started – for her this was American music – which will make you stand out from the crowd. On conducting courses and their often very specific requirements, she said that what interests her most in a young conductor is musicality and a hunger to improve. Even a conductor with poor coordination skills, Marin told us, could go far with genuine dedication and musicality. She advised in particular practising in front of a full-length mirror. Later on, when asked about controlling an orchestra, and whether fear plays a role in this, Marin seemed to strike a chord with the audience when she said that although she would prefer to be liked, respect is more important for her than being feared or liked.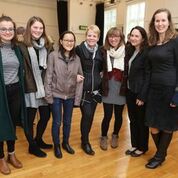 Another topic raised was that of Marin's experiences as a female conductor – hardly surprising as she is known for being the first woman to lead a major American orchestra (from 2005) and to conduct the Last Night of the Proms (2013). This discussion was broached through a question on her opinions of conducting courses intended just for women. Marin was eloquent on the difficulties female conductors often face in getting opportunities to conduct, as well as on the issues which particularly affect women, and which can be addressed in female-specific workshops: for example, confident rehearsal or conducting techniques may be construed as overbearing in a woman, but a sign of strength in a man; on the other hand, lighter hand gestures might be seen as 'weak' or 'girly' from a woman, but 'sensitive' from a man.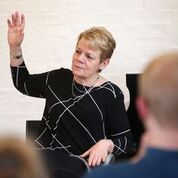 Marin actively tries to use her influence to help address this gender imbalance, such as by putting on various masterclasses for female conductors – including one coming up at the Southbank centre in February – as well as helping women to gain access to conducting opportunities, which she specifies should be relatively low pressure, and not 'make or break'. Marin also touched on her desire to expand participation more broadly: for example, shocked by the lack of ethnic diversity in the Baltimore Symphony Orchestra, which she directs, Marin set up OrchKids, a scheme offering music teaching as well as an evening meal to children from impoverished areas of the city.                                                                                                                                                                           The questions could have gone on much longer, but in the end we had to wrap up so that Marin could leave for the lunch being put on in her honour, and the students were left slightly star-struck. The session was a fantastic opportunity for all involved, and Marin Alsop impressed hugely with her wisdom, friendliness and evident desire for artistic authenticity.
Laura Dunkling is a third-year music student at Christ's College. A keen conductor, she conducts the University of Cambridge Philharmonic Orchestra, as well as the Christ's College Orchestra.