The inaugural Cambridge Female Composers Festival launched last month, and runs until March 2019. Here, co-chair Laura Dunkling, an MPhil student at the Faculty of Music, explains the background to the Festival, and picks out some of the Festival highlights.
The Cambridge Female Composers Festival was set up to showcase the fact that there is a huge variety of music written by women and non-binary people, through a combination of concerts, recitals, evensongs, and a composing competition. The festival started three weeks ago with an extended weekend of events: Nat Jobbins and members of CUJO presented a late-night jazz recital, with music composed by Nat herself; Sarah MacDonald conducted a wonderful orchestral and choral concert in Selwyn chapel, with a pre-concert talk by Katharine Ellis; and finally, Ellie Carter performed a selection of 20thand 21stcentury organ music in Clare chapel. Since then, we have been treated to a recital of Jewish women's music from Northern Morocco by Vanessa Paloma Elbzaz, a faculty research associate, at Downing's atmospheric Heong Gallery, and a solo piano recital by Ursula Perks, who played to a packed audience at Kettle's Yard.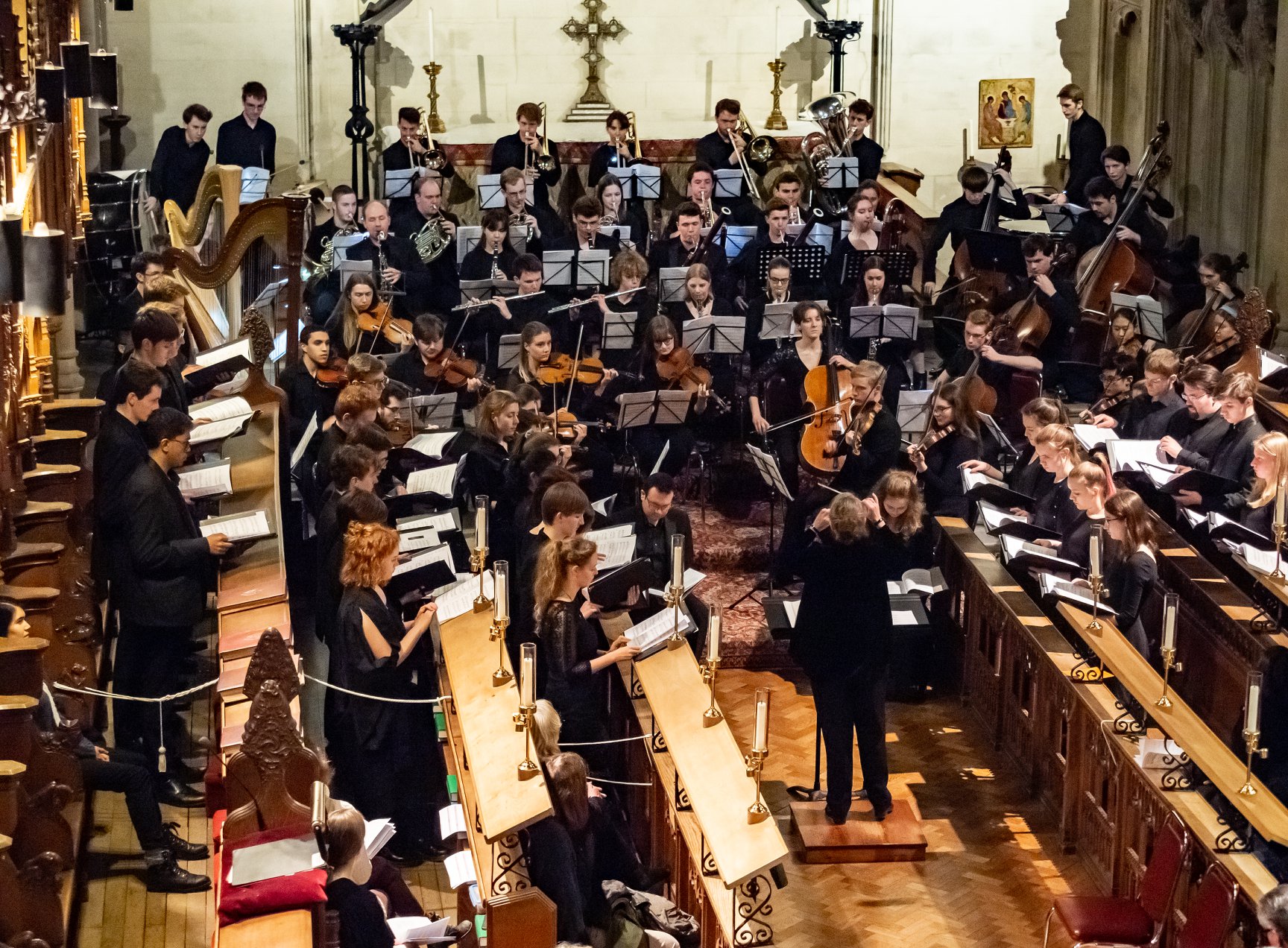 Sarah Macdonald conducting the CFCF launch concert in Selwyn Chapel on 27 January 2019
In addition to this, we have published 7 blog posts to date, ranging from Rachel Becker's insights on gendered descriptions of instruments to Sarah MacDonald discussing her experiences as the first female director of music at an Oxbridge college. Along the way, we have collected hundreds of pounds in donations which are going to a local charity, the Cambridge Rape Crisis Centre. Finally, we have just confirmed the shortlist for our composing competition: congratulations to Sophie Westbrooke, Anna Semple and Beckie Sturge, whose string quartets will be workshopped by the Granta quartet, a University Instrumental Award Scheme group, on 23 February.
With another month to go, it is certainly not too late to engage with the festival – whether through attending events, or simply keeping up to date with our blog posts and social media! This Wednesday, Anita Montserrat is conducting a cantata by Elisabeth Jacquet de la Guerre in Trinity college chapel, followed by compline. Beyond this, we are looking forward to five evensongs, a solo string recital, two vocal recitals, an experimental performance by the group tick tock, and a chamber music concert. All these events are listed on our termcard and website, and are advertised on facebook. The final event of this year's festival will be our flagship orchestral concert on International Women's Day (8 March, 8pm, Trinity chapel), conducted by Naomi Woo and Joy Lisney, both PHD students in the music faculty, and featuring Christina Alishaw as flute soloist. Most tickets will be sold on the door, but to guarantee a place, head to our website to buy one of the 100 pre-sale tickets (cambridgefemalecomposers.com/events) . There will be a panel discussion in Heffers Bookshop (6.30pm) before the concert, which will include Professor Katharine Ellis and Professor Suzanne Cusick (who will also be giving this year's Faculty of Music Donald Wort lectures). This event will be free, with places available to reserve nearer the time through our website.
We hope that this festival is offering people opportunities to discover new music by women, and that it encourages discussion about issues of gender and representation in music. Most of all, however, we hope that everyone involved enjoys it as much as we the committee have enjoyed setting it up!
Website: https://www.cambridgefemalecomposers.com/
Facebook: https://www.facebook.com/camfemcomposers/
Twitter: https://twitter.com/camfemcomposers/