Cambridge University Collegium Musicum and Chamber Choir: Acis and Galatea
The recent performance of Handel's 'Acis and Galatea' in West Road Concert hall, the result of a collaboration between Cambridge University Collegium Musicum, the Chamber Choir, and performance spaces in the City of Cambridge, was not an average student production.
Just as the work's satirical take on the pastoral genre forced the 18th-century viewers to contemplate a vast conceptual gap between different locations (the glaring poverty of rural early modern England versus the countryside's representation in a glorified Arcadia) so too did this performance take on a directly political character when confronted with a drastic change of location. The audience arrived at West Road Concert Hall in a state of bemusement following a last minute-change of venue.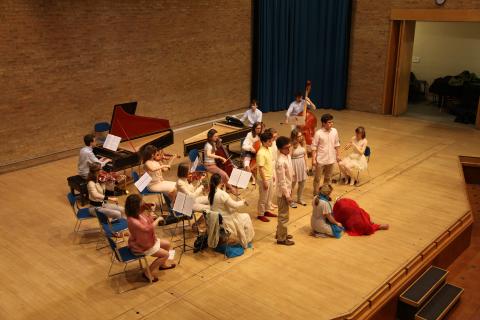 Originally conceived as a site-specific performance in one of the University's most prestigious locations, the production was disrupted by the occupation of the Senate House by a body of students protesting over the ongoing Union action. The Senate House was no longer a glorified, almost mysterious building, the inside of which was only encountered on special and unique occasions: it became a potentially threatening space inhabited by protestors.
This made the shift to the 'blank canvas' stage of West Road Concert Hall (kindly facilitated by the managers and staff working there), all the more poignant: we had been failed by one Arcadia, and were instead forced to re-imagine our own. The stage in this way became a liberation: a space for risk taking, and one in which the stakes of our own collaborations were up for negotiation, away from the austere agency of a building whose very architectural structure reflects its purpose as a ceremonial stage for the University.
The performance itself was curated and directed by internationally-renowned musicians Margaret Faultless and Nicholas Mulroy, and Amsterdam-based theatre director Zephyr Brüggen – all pioneers of a socially collaborative approach to music making, theatricality and performance. This sociality extended to all participants in the performance event, breaking down the boundaries between musician, singer and even the supposed 'fourth wall' of the audience, who were invited on stage to take part in the imaginary ritual mourning of Acis by leaving paper flowers by his body.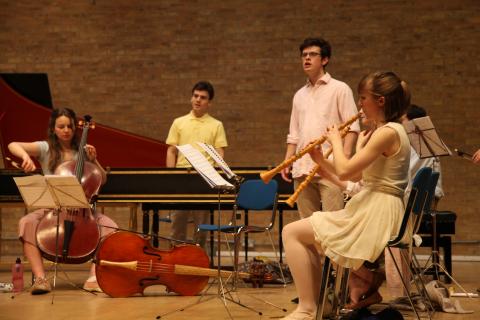 Such an approach demanded a different kind of rehearsal process. Rehearsals were not for the purpose of learning notes, but for exploring different sorts of reciprocity on stage. Singers arrived on the first day having learnt their parts off by heart so that they were able to focus on engaging both musically and even physically with members of the orchestra as part of the drama. Zephyr began the process by conducting movement workshops with both singers and instrumentalists to encourage this performative and embodied interaction.
She also chose to highlight the instrumentalist's roles as protagonists in the drama of the story rather than as imagined or abstract background music by inviting them to swap the traditional black of the concert hall for pastel colours, literally staging their part in the pastoral setting.
The final performance itself represented only one possible outcome for this emerging process of social and collaborative music-making, but, perhaps because the last-minute change of venue brought to both the performers and audience a heightened sense of the contingency of any performing event, the live, embodied and sometimes risky interactions on stage brought an electricity to this performance of 'Acis and Galatea' that remained long after the duration of the event itself.
-       Rachel Stroud, violin
As a member of Cambridge University Chamber Choir I was privileged to perform the role of Galatea in this production with Collegium Musicum. It was inspiring to be co-directed by experts in their fields, Maggie Faultless and Nicholas Mulroy, who not only coached us but performed with us on stage, creating a truly collaborative approach to music making. This encouraged everyone to take on far more individual responsibility, with singers turning up on day one having learnt all their arias and recitatives off by heart. This allowed precious rehearsal time to be used efficiently, first with the orchestra lead by Maggie working on musical components, particularly recitatives which often required the most work to master and co-ordinate with the continuo players. Another interesting aspect of this process of working solely with the orchestral players was the consideration of articulation from the instrumentalists, which inspired me to explore different colours in the voice. We also considered the concept of 'tempo', whether it really exists, and trying to find a good medium in arias to prevent rushing or dragging, which was subject to change in acoustics of different spaces.
The singers then worked individually with Nick on arias focussing on meaning of text and how one could express the narrative of the story with conviction, a particular challenge in Handel arias which are often lengthy with da capo sections. We concentrated on developing our characters, asking specific questions 'who are you? Where are you going? Where have you been?' which allowed us to build more of an internal narrative to really inhabit the stage. To create more variety in the music we were encouraged to think in greater detail about arias plotting a very specific journey of thought and emotion through each bar, phrase, and piece. By being bold in our choices when singing, we could show how we would like the orchestra to play in mood, colour, dynamic, shaping, text, scale, light and shade.
Despite the venue change from Senate house to West Road, which could have thrown the team, it was brilliant to witness everyone rise above this problem in good spirits. Due to the collaborative nature of the rehearsals, everyone had the courage to personally contribute, yet still work together in a team, sensitive to the musicians around them. No one played a 'passive' role. This was helped in the performance as the orchestral players were situated on the main stage in pastel costumes rather than black, physically embodying part of the pastoral set. This allowed the singers greater ability to engage with the orchestral players as we were encouraged to interact with them dramatically, which enabled a far higher level of musical communication. We had greater freedom to bounce musical ideas off individual players as well as the collective orchestra creating an incredibly spontaneous, fresh performance. Performing with such exceptional musicians, in such a positive environment, who were prepared to take risks, has to be one of the most thrilling musical experiences of my time in Cambridge, leaving me on a high for weeks after.
-       Helena Moore, Galatea
To see a copy of the programme from this concert, click here.